Get ready for DrupalCamp!
DrupalCamp Finland 2023 is starting soon and here's some important information for the convenience of your arrival and some handy practicalities already.
Event is held in HTC Helsinki, Tammasaarenkatu 3, Helsinki. The complex has several buildings in it, and the main auditorium is in the building called Pinta. Once you arrive there, you shouldn't miss the Kolumbus auditorium. See the area map below.
The afterparty and sauna happens in the next building Nina, on the 7th floor. There will be a separate signup for the afterparty upon your registration at the event - so that we can be prepared with an appropriate amount of pizza and drinks for the hungry and thirsty event goers. 
The afterparty happens between 17-21, and by 21, we will close the doors and head elsewhere. Sauna is optional, so you can also come and only enjoy the nice city view! If you wish to try the sauna, you should be comfortable with heat, steam and semi-naked people as we don't have separate saunas for different groups. Towels are provided, but bring your own swimsuit.
See you soon!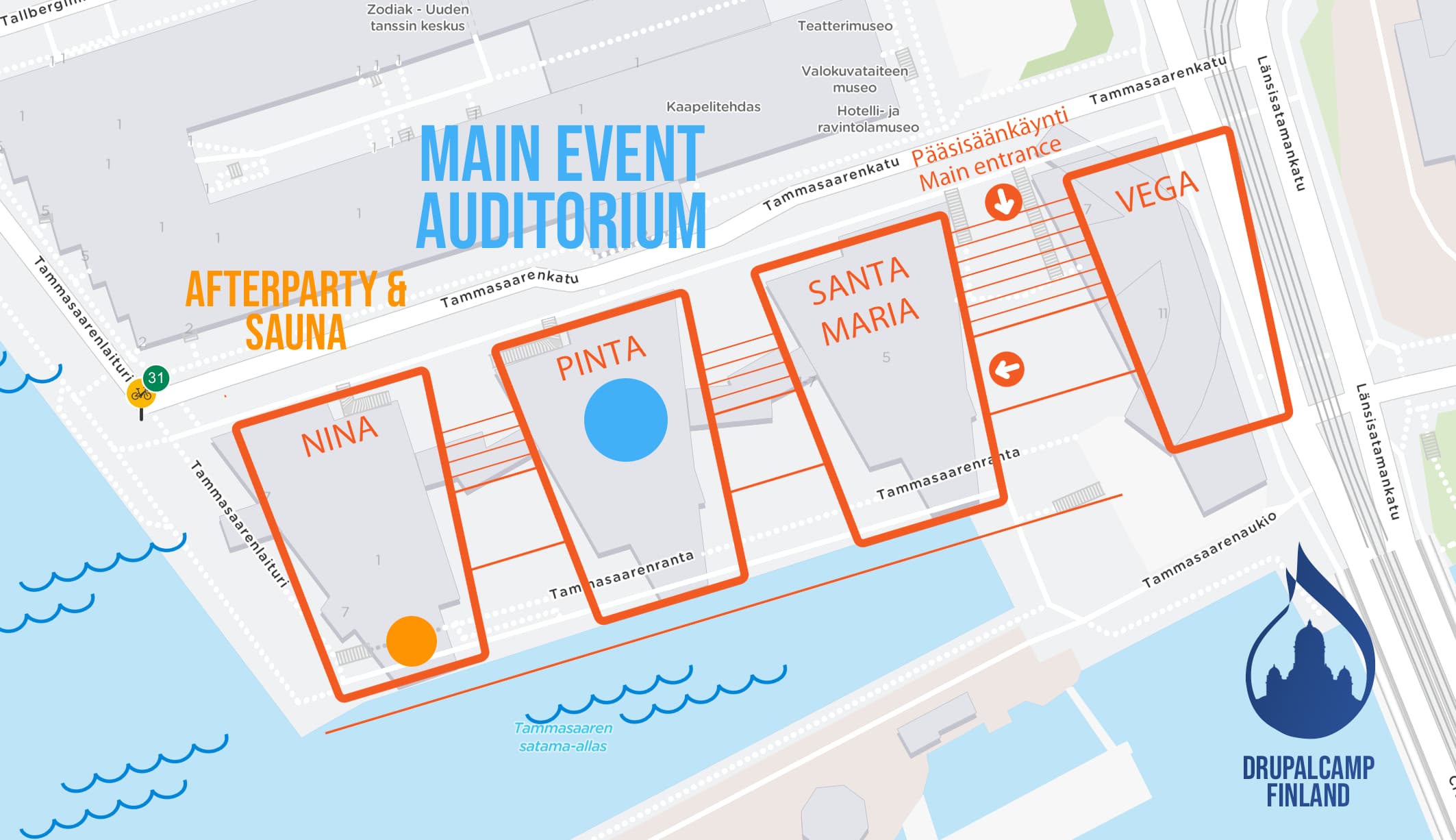 ---
DrupalCamp is back in Helsinki 2023 as a real in-person event! We are expecting 100 people to come - local Drupalists, users of Drupal or anyone willing to learn more about how Drupal is doing in Finland and in the northern Europe.  
The main objective of DrupalCamp Finland is to promote the use of Drupal and to be a meeting point for the Finnish Drupal community. You are most warmly welcome!
Event will happen on the 28th of April, 2023. Event is free of charge.
Sign-up for the event has been closed.
---
Schedule has been published!
The event is built of community presentations from beginner to advanced, from technical to regular humans.
Event is scheduled between 9:00–17:00. Afterparty and Sauna in the same building after the event. 
---
Featured speaker: Lauri Eskola
Drupal 10: What's New and What's Next
As we like to say, the drop is always moving. With over 1000 resolved issues, Drupal 10 is a prime example of this. In this presentation, we'll focus on the most significant changes, including enhancements to the user experience, new features in Views, and performance improvements.
Additionally, we'll provide a sneak peek into what is coming up in Drupal 10.1, scheduled for release in the summer of 2023. Whether you're a developer, site builder, or just interested in Drupal, this presentation will provide valuable insights into the latest and upcoming changes to Drupal.
---
Location
Event is held at HTC Helsinki, Ruoholahti (Tammasaarenkatu 3, 00180 Helsinki). The HTC building name is Pinta. The event is happening in Kolumbus -auditorium.
---
Our sponsors
Event participation is free of charge and organising of the event will be made possible by sponsors. Read more about sponsoring options and information for sponsors.
Gold sponsors
Silver sponsors
Bronze sponsors

Media partner